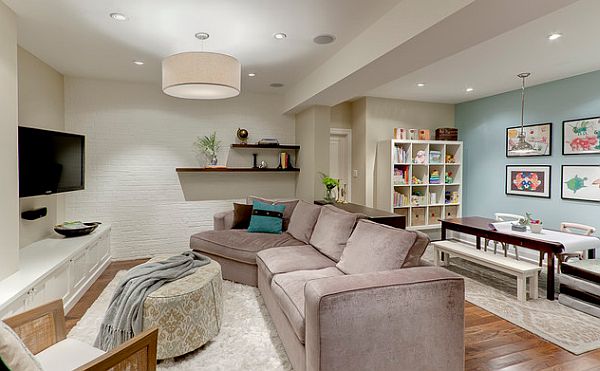 HOW DO YOU MAKE A DARK ROOM BRIGHT?
The obvious answer is to add windows, but we understand that the obvious answer isn't always the right answer. Your home might be a rental, or if the space that needs brightening is in a basement, the architecture can limit what windows are possible to use.
With interior painting and design strategies in mind, here are a few ideas you might consider:
Use Light Colors
– Try lighter, natural colors for a warm but bright effect. Use high gloss paint so that it reflects and amplifies light. To emphasize height in the room, paint vertical stripes; to emphasize width, paint horizontal stripes. Choose a color for the stripes that is slightly lighter than the base coat for a spacious, airy effect. Avoid dark paint colors that soak up the light. And, keep in mind that even if a certain color doesn't look too dark in the paint store, it will appear significantly darker when applied in a room without natural light. At the same time, however, white is not a great option either because it can quickly feel stark.
Choose Lighting Carefully
– Believe it or not, a single over-head actually is not always the best option. They tend to create a pool of light in the center of the room, making the outside edges feel even darker. Try track lighting! The benefit is that you can aim them in different directions, putting the light exactly where you need it.
Decorating
– Glass, mirror and shiny objects help to move light around the room, whether it's artificial or natural. If you have too many solid surfaces (wood/fabric/draperies/drywall) that absorb light, rather than reflect it, the energy in your space will feel heavy and off balance.
Create a Window
– Install a focal point that imitates a window. Group panels of mirrors together in a square formation to imitate window panes or hang a small, painted trellis on your wall. Mirrors move light around the room and they also 'act' like windows. Adding a mirror anywhere in a dark room will help the energy flow. If you can have your mirror reflecting a light, you will double the value of the light you get! This is great for a dark dining room or bedroom with a hanging fixture. Paint your "picture window" wall a lighter shade than the other four walls, to create the impression that you're looking outside.
Back to Nature
– Simply including a live plant in your decorations will make your room feel brighter.
Give us a call to help brighten up your room. We would be happy to come out and give you an estimate FREE of charge. 800-687-9470. We look forward to hearing from you.