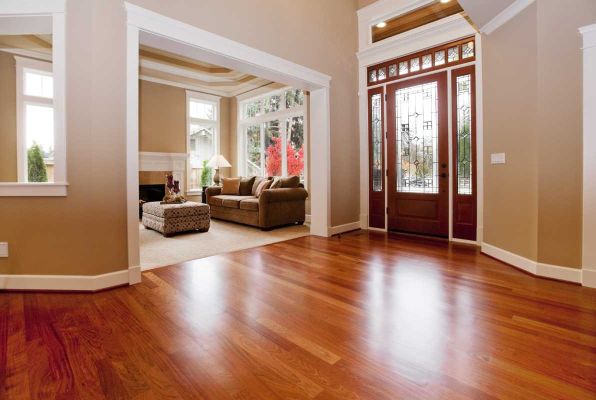 No matter how much care you give to your wood floor there invariably comes a time when cleaning is just not enough to bring back the shine and lustre it had when it was new. If you look at your floor and see it as a dull shadow of its former elegant self then it's time to do something about it. If by now you are thinking you need a new floor – chances are you don't. All that is required is a professional wood floor refinishing job, and for the best in town for refinishing wood floors, call on Palette Pro Painting & Renovation, Inc.
Let us take the strain of Refinishing Wood Floors
​With 10 years experience in serving homeowners and businesses in
Westchester
and
Fairfield County
we have garnered both experience and vision to enhance any age and type of hard or softwood flooring.
​Because we use only the latest hi-tech sanding equipment and hand tools, we can make sure that any work we undertake in your home or business premises is carried out with the minimum of fuss and noise. All our wood floor specialists work diligently and are as unobtrusive as possible, always mindful that they are in your home or business. Without exception the
Palette Pro
team works cleanly and efficiently with a minimum of upheaval.
​Refinishing wood floors involves removing the top layer of coating, whether it is lacquer, wax, oil or varnish and then sanding thoroughly to an even and smooth finish. Often a professional eye will spot minute flaws, cracks and gaps and it is at this stage that repairs will be made before applying a new sealant. Many people take advantage of refinishing to choose a different top coat to entirely transform the look of their floor.
​In addition to giving all types of wood and parquet flooring a new lease of life, refinishing your floor will bring additional value to your home. A beautifully pristine real wood floor is a talking point in any type of room and a real selling point too. If your home has small rooms then a shiny bright wood floor instantly adds length and depth, the naked eye version of the long-lens camera. By definition a well maintained wood floor looks cleaner and more spacious that a carpeted room. Hallways especially look very elegant with wood flooring, which is why most top class hotels favor a hardwood floor foyer and reception area.
Should I save money and do it myself?
​Unless you are a wood floor professional the short answer here is no. For any floor to look pristine the top coat in particular must be applied flawlessly, otherwise the whole appearance of the floor can be blighted. Another reason why doing it yourself is not recommended is that some floorboards may be aged and require delicate handling. At Palette Pro we are fully insured for our customers' peace of mind.
Don't leave your floor to chance
​Your floor is one of the biggest assets your home possesses so don't allow amateur workmanship to ruin your floor. When you choose Palette Pro you know all our work is
guaranteed
.
If you would like to arrange a no obligation visit by one of our specialist please give is a call at 800-687-9470 and we will be delighted to give you a free assessment.